A quick gift guide for the crochet lovers. These 10 crochet gift ideas are sure to spark an idea for the crocheter in your life. Buy a cute gift instantly!
Hey Friends,
I thought it would be fun to create a list of some really cute crochet gifts. You know we all that have one friend who loves crochet, but what on earth do we buy for them. Besides the usual suspect – yarn.
Well no worries, I've come up with the perfect gift guide for all your crochet friends.
1.Yarn Cutter Pendant
This is perfect for the friend who loves crochet and jewelry, because its literally a 2 in 1. It's a yarn cutter pendant! So you can wear it as a pendant, while also having a handy tool when you crochet. BUY IT HERE FROM AMAZON
2. The Complete Book of Crochet Stitch Designs: 500 Classic & Original Patterns by Linda P. Schapper
Everyone needs a good crochet stitch pattern book. I love this one, because it shows all different type of unique crochet stitches. Great gift for the beginner crocheter who wants to advance their skills! BUY IT HERE FROM AMAZON
Or this one, BUY IT HERE FROM AMAZON
3. Looking for something really special? These handmade ceramic yarn bowls from CreativityHappens on Etsy are beautiful. BUY IT HERE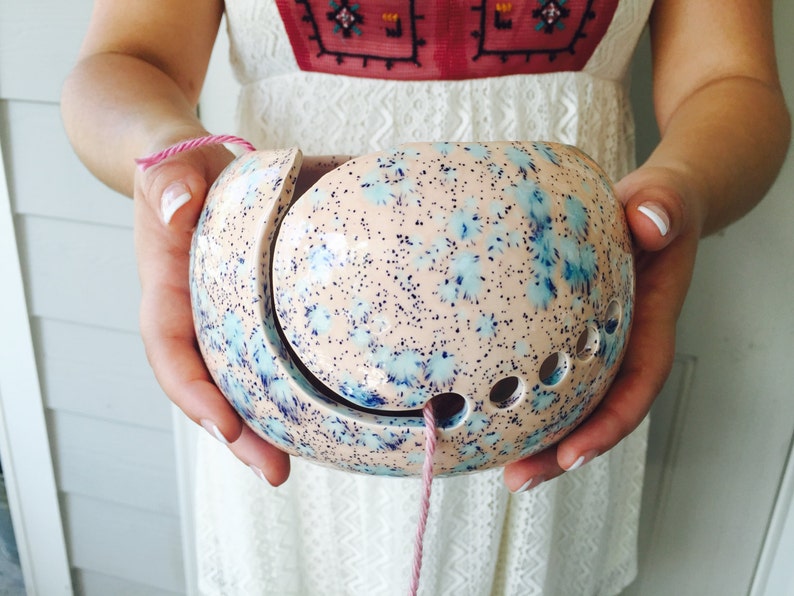 4. Unique Handmade Crochet Hooks by ChileanHands on Etsy.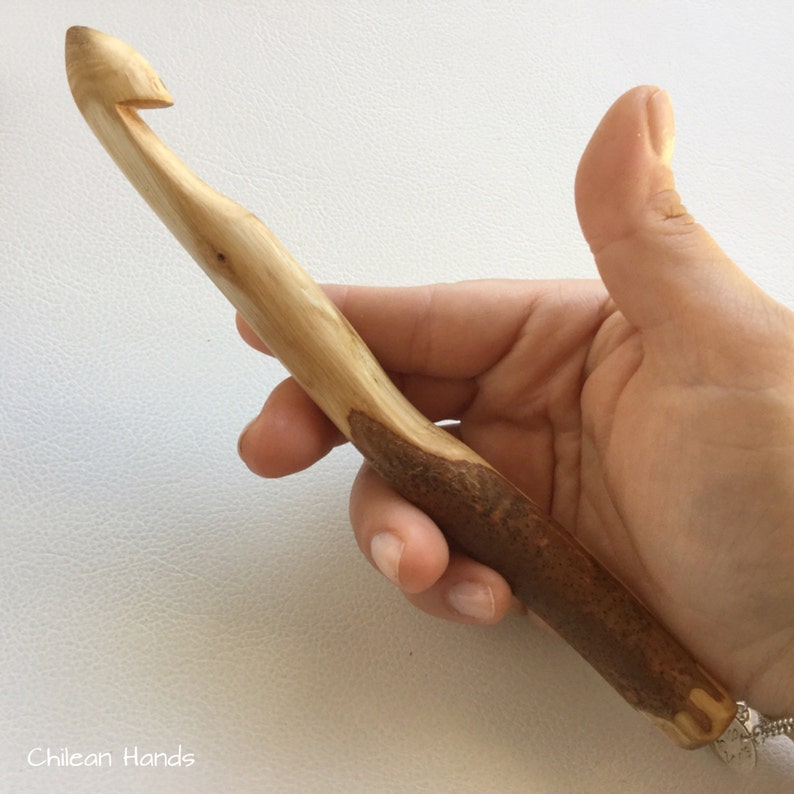 This is a really cute gift idea for that one person who loves the style of different crochet hooks. BUY IT HERE FROM ETSY
5. Vintage European Style Pattern Crochet Scissors
I love a good pair of yarn scissors. Especially when their this pretty! I currently only have one pair that I found at Hobby Lobby. But these can be found on AMAZON HERE.
6. Yarn Ball Stitch Markers
Who doesn't need more stitch markers?! These stitch markers are the cutest and so unique. I found them on AMAZON: BUY HERE
7. Crochet Row Counter
Crochet row counters are a lifesaver! Especially when your working on those really long patterns and it's hard to keep track of how many rows you have.
Yeah, this little tool will save you some time. BUY IT HERE FROM AMAZON
8. Crochet Mug: If I Look Tired It's Because I've Been Hooking All Night!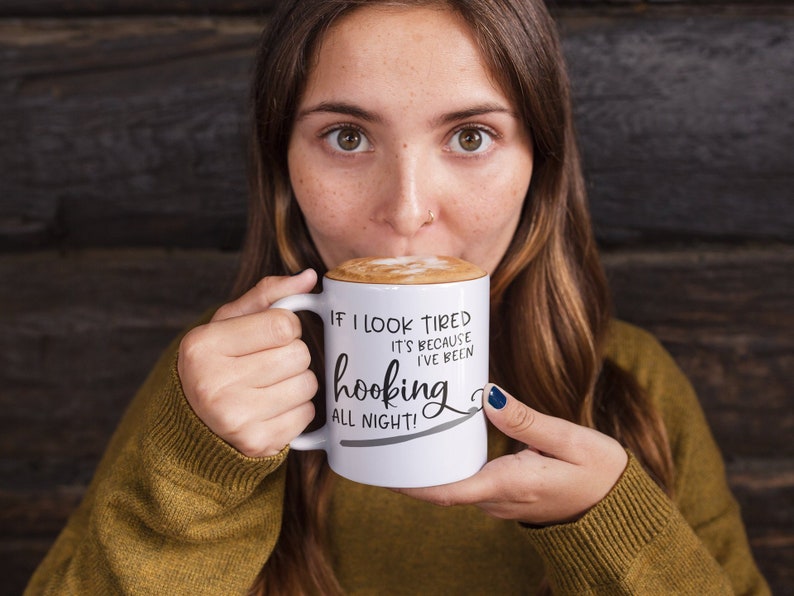 The absolute cutest crochet mug! I don't know about you, but I always make myself a cup of tea when working on my crochet project.
Now all be doing it in style when drinking out of this mug. You can find this mug from the ETSY store LoffCreations. BUY IT HERE
9. Another Cute Crochet Mug : Yes I'm Bilingual. I Speak Fluent CROCHET!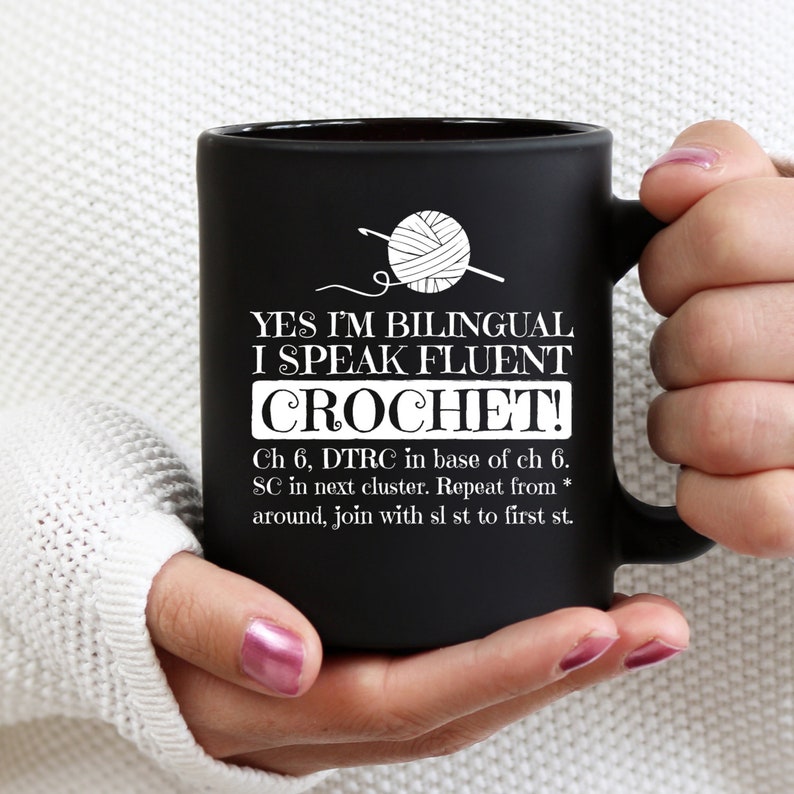 This mug will definitely get someones attention. You can find it on Etsy from the shop Peaceandblossom. BUY IT HERE
10. Not a mug lover?! Try this CROCHET themed wine glass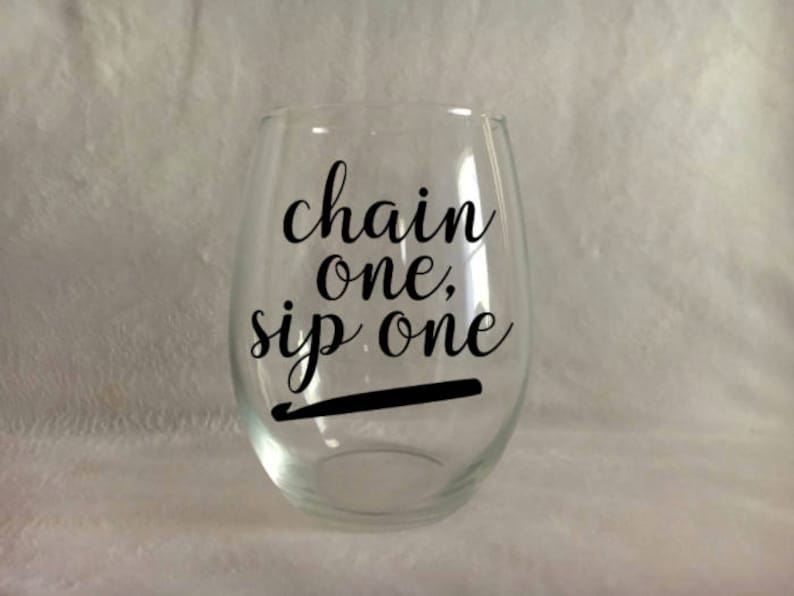 You can buy this wine glass from the shop HootandHook on Etsy. What's awesome about this glass, is that you can choose the colors of the words. BUY IT HERE
Ahhh, so many cute unique gifts for the crocheters in your life.
What crochet gift have you given in the past?